Pigment Violet 3(UN8806 Fast Violet Toner R )

Chemical Name: Methyl Violet SMA
CAS No.: 1325-82-2
EU No.: 273-548-3
C.I. NO.: 42535
Chemical Formula:
Molecular Weight: 6850~7818

Structural Formula: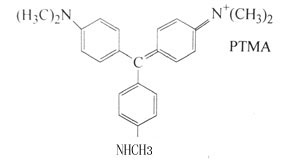 Pigment Violet 3 UN8806 is deep violet powder with bluish shade,with brilliant luster and good tinting strength. It can improve the blackness when used in black ink, without water permeability and oil permeability.
| | |
| --- | --- |
| Equivalent | Company Name |
| Fast Bronze Violet | KKK |
| Forthbrite Violet PTM | CRD |
| Foscolor PTMA Violet 3 | FOS |
| GF Violet Toner 2R | GNP |
| Lumiere Violet PTM 0343N | CFB |
| Methl Violet PMA | MCC |
| Methyl Violet PTMA | MCC |
| Pigment Violet 3 | CPMA |
| Seikalight Violet B800 | DNS |
| Violet Toner DD2 | KPC |
Pigment violet 3 Physical and Chemical Properties

PH Value

6

Density (g/cm3 )

1.8

Oil Absorption (ml/100g)

45

Light

5

Heat (°C)

160

Water

4

Linseed Oil

4

Acid

5

Alkali

4
Pigment violet 3 Application: Blueish,Strong strength,Offset inks,Aqueous inks